📆Calendar Shoot – Animal Actor Specialty Title
US$24.00
Pay with Instructor Credits: 3 credits for PDF certificate. Hardcopy, disc + sticker sheet is 3 credits. Shipping is additional.
Animal Actors are trained to model in photoshoots. To earn this title, your dog (or pet) will demonstrate real-life modeling skills by posing for their own dog calendar.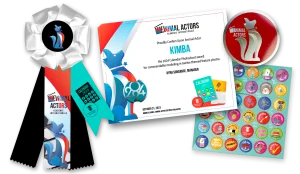 📸 Take 12 posed photos of your dog.
The 12 photos should comprise a theme, such as one would expect in a calendar. Some photos can be candid shots, but at least some must utilize modeling skills such as:
Looking at camera or watching a "Look Stick"
Interacting with a prop
Wearing clothes
Being posed in a specific place or in a specific way
👩‍🏫 Show your 12 photos to an evaluator.
Online Evaluators In-person Evaluators
Alternately, you can upload your 12 photos here (extra fee).
📆 Congratulations! Fill out the form below.
-